This last year has been one for the ages! It has been a tale of two years. Economic indicators have plunged and then risen sharply as we started to get back to work, school, and dining out.
One of the most dramatic changes was the pandemic induced second-quarter -32.9% GDP plunge. Then there was the equally stunning third-quarter skyrocketed to 33.1%.
This year saw oil turn negative for the first time in history. It dropped to -$37.63 in April but has come back above $45.
The dollar had a meteoric rise in March and has since fallen 12.47%. And we all have seen that the stock market has risen to an all-time high, after dropping 30% in February.
Inflation is still staying low and the price of gold has fallen off an all-time high of $2,085.
Gold probably won't go much higher because it has a correlation with inflation, rather than an inverse correlation. When looking at the chart comparing the SPDR Gold Trust ETF (GLD) to iShares TIPS Bond ETF (TIP), you'll see that there is a 97% direction correlation with inflation.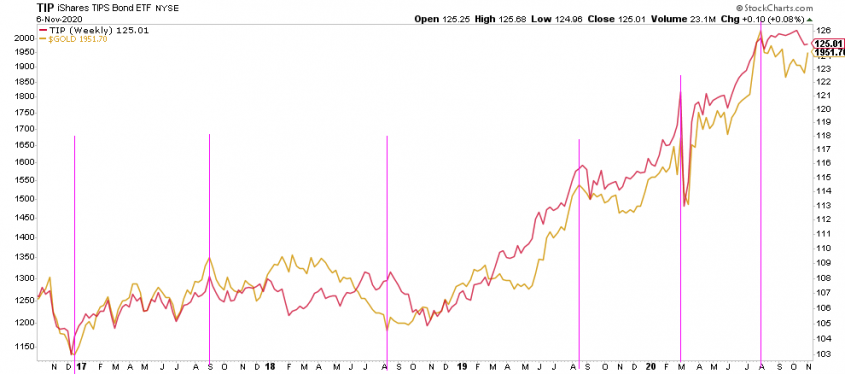 Arguably, the most mundane and everyday activities that have tried consumer's patience is having to weather the toilet paper shortage. With all the debate this election year about socialism either pro or con, our nation has experienced a temporary edition of what it would be like to live in such a society.
Barren shelves
We have had to endure government mandates, long lines just to enter a retail store, as well as barren store shelves. But if you want to see the impact of what it would be like to live under a socialist government, all we need is a pandemic to illustrate.
Fortunately, manufacturers were able to increase production and replenish supplies. The unemployment rate also shot up to 14.7%. Though it has returned to pre-COVID levels like some of the other indicators, it has come down to 6.9% in October.
The real metric to determine the state of the economy is consumer spending. When the consumer spends, it is the fuel that runs the economic engine.
Like most of the other indicators, personal consumption expenditures (PCE) crashed in the second quarter to -33.2 but rose to an extraordinary level of 40.6% in the third quarter.
With the promise of a vaccine, these numbers indicate that we are making our way out of the woods. The economy has had its ups and downs this year, but it could be so much worse. Much like the overly locked down states of California, we could all still be living the socialist existence.