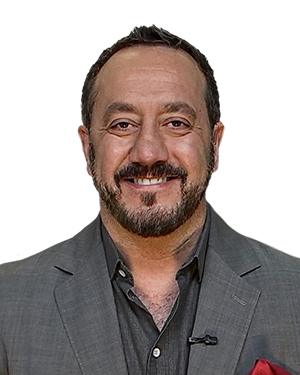 About Bob
Bob Iaccino spent the last 28 years working in the commodities, futures, FX and equity markets. He appears as a guest analyst on various media outlets including CNBC, Bloomberg Television, CNN International, Fox News, Business News Network (Canada), Sky News (Australia), Stockvoice (Japan) Phoenix TV (China) and several local television broadcasts throughout the country. To date, Bob has done over 2000 interviews on various economic, political and market-based topics. He continues to appear in 10-15 live television interviews per month.
Bob's story
Bob got his start in 1992 as a phone clerk on the CME trading floor by joining Nikko Securities, Japan's third largest brokerage house at the time. Bob left Nikko in 1997 and after a brief stint with Smith Barney, accepted an offer to serve as Chief Market Strategist for Commerzbank Futures, the brokerage arm of Germany's 4th largest bank at the time. He left Commerzbank in 2003 to become Chief Market Strategist and risk manager for a proprietary trading firm based in Chicago. This firm also gave him the opportunity to run his own commodity pool. During this time, he also gave internal seminars on trading psychology, trader discipline and mindset to the firm's proprietary trading arm. Bob then invested in a start- up Fund of Funds and served as a principal and member of the investment committee.
His responsibilities included early-stage manager selection. He was one half of a 2- person committee charged with discovering and seeding start-up CTA's. In 2008, Bob began speaking on trading and investing and has given live seminars and speeches domestically in New York, Chicago, Boston, Washington DC, San Jose, Dallas, Scottsdale Miami and internationally in Japan, Canada, Germany, Colombia, Panama, Mexico, Brazil, Qatar and Dubai.
In 2013, Bob Join Tethys Partners, a boutique oil trading firm as their Chief Markets Strategist, where he consulted on economic and geopolitical strategy in the energy space and ran the firm's internal stock options hedge fund. He also worked on several projects outside of his responsibilities at Tethys, where he utilized his many years of experience as a fund of hedge funds manager to help high net worth individuals and family offices outperform the markets.
In 2015, Bob and his trading partner, Mike Arnold founded Path Trading Partners, a boutique analytics firm. In addition, Bob joined InTrades.com in June of 2017 as Chief Market Strategist and Head of Research. InTrades, based in Miami is a retail-focused advanced market intelligence website using a proprietary algorithm to identify and quantify public interest in individual stock, commodity, and FX markets.
In 2018, Bob co-founded the PureXposure Growth Series, a financial media company focused on exposing the average investor to the truth in trading and active investing through broadcast media and conferences. In March of 2020, Bob and Mike launched The Stock Think Tank to help investors recover losses from yet another market crash by structuring value stock portfolios.