It's a great time to be a home seller in 2018, though buyers are surely crying. Steady demand and limited supply is pushing real estate prices ever higher.
Home prices are up 6.7% from their peak in July 2006 and have been rising steadily over the past six years.
Property prices in Seattle, Las Vegas and San Francisco are seeing the largest home increases. Seattle went up the most, rising 12.7% year-0ver-year. Las Vegas prices increased by 11.6%.
The Home Price Index from real estate data provider CoreLogic showed that nationwide home prices rose 6.7% in February 2018. That is up from 6% price gain three months prior and 5.9% before that.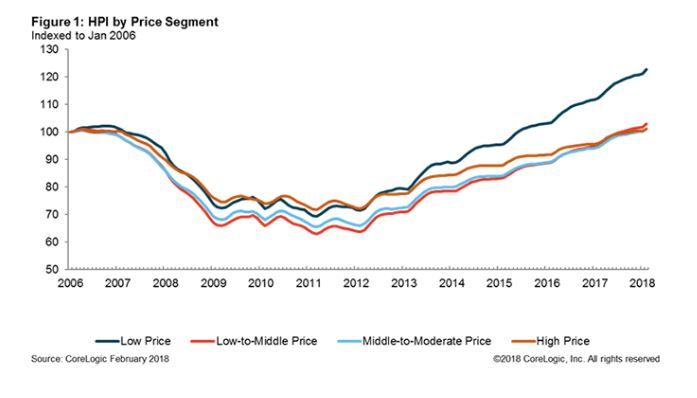 Simply put, prices aren't just rising, they are surging. Which begs the question, how long this rally can last?
Clearly, the housing market was surging in 2006 but that bubble eventually popped. The result was the 2008 Great Recession and a decade-long recovery.
Some people already are bearish on home values.
"Family income is rising more slowly than home prices and mortgage rates, meaning that the mortgage payment takes a bigger bite out of income for new homebuyers," said Frank Martell, CoreLogic's president and CEO.
"Often, buyers are lulled into thinking these high-priced markets will continue, but we find that overvalued markets will tend to have a slowdown in price growth."
Strong economy
Essentially, some housing analysts believe that rising price gains that go past normal macro fundamentals means the housing market is increasingly dysfunctional.
Nevertheless, homes are changing hands nearly as fast as they get listed.
A typical property in Seattle was on the market for 29 days. In Las Vegas, a home was on the market for 42 days and in San Francisco just 21 days.
The strong economy certainly is helping homes sell.
"With expectations for continued economic growth and further employment gains, the current run of rising prices is likely to continue," said David Blitzer, managing director at S&P Dow Jones Indices.
Bulletproof Your Portfolio Now!
A smart investor should be prepared for anything. That's why David Frazier created the
Bulletproof Wealth Report
. This comprehensive investment service is everything you will need to survive and thrive in the looming meltdown. In other words: It's how anyone can make their portfolio bulletproof. It's a mix of fast-growing, leading companies that are the engine of American prosperity. To that he adds a healthy dose of "insurance policies" i.e. stocks and funds that benefit when the next recession strikes. The future favors the prepared. You can be prepared.
Not only that — you can profit
.
Bulletproof My Portfolio!
Cryptocurrency Will Shine Through the Coming Chaos
While the U.S. spends and spends and spends its way into oblivion, the eventual result will be inflation. Serious inflation. The dollar will crash, gold will shoot higher and Bitcoin, well, it can only become more scarce and more valuable. There's a natural ceiling to the number of Bitcoins that will exist — ever. By design, there can only be 21 million of them. Soon, the ceiling will be hit. Now is the moment to get into cryptocurrency. There's a been a rise of late, but prices are consolidating, setting up for the next leap higher. Grab Keene Little's widely followed cryptocurrency newsletter,
Crypto Wealth Protocol
completely risk free.
Yes! Send Me A Free Issue