Professor of finance at the Wharton School, Jermey Siegel, can see a future where equity prices drop as much as 30% in 2020.
On the bright side, Siegel only sees this as a one-year impact.
"I see this as a very severe one-year shock, and then a bounce-back that could be extremely rigorous," said Siegel.
Siegel continued, "This could be a really tough year, but 2021, '22 onward, there's no reason not to say we're going to snap back from this."
"We always have."
Siegel's concern comes amid the outbreak of COVID-19, the coronavirus in the United States.
Siegel, as of now, believes that the coronavirus won't trigger a recession.
"Long-term uncertainty is not at all increased as a result of this virus," said Siegel.
Siegel added, "If you've got some cash now, time to put it to work. Don't get nervous if it comes down another five or 10%."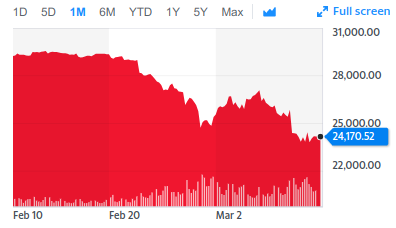 Siegel was also among the voices calling for a rate cut from the Fed.
"I think the Fed should act again. Let's make some room there for easing on the financial side," said Siegel.
The Fed did enact a surprise rate cute of 50 basis points on March 3rd.
The rate cut created a panic and caused a mass-market sell-off.
The Fed's reasoning behind the 50 basis point cut was that "the coronavirus poses evolving risks to economic activity."
'Very nasty for most investors'
Not all financial advisors are pushing forward the idea that investors should be investing their capital amid the coronavirus dip.
BK Asset Management's Boris Schlossberg is actively telling his clients to stay away.
"We have been conditioned as investors for the last ten years to buy the dip continuously," said Schlossberg.
Schlossberg continued, "If this is the year that breaks that behavior, that's going to be very, very nasty for most investors."
"If you have a couple of failed buy-the-dip situations going forward this year, it's going to really create a very sour sentiment, and you're going to have much steeper declines than people believe. So, to me, we're really at a very key cusp here in the markets."
Bulletproof Your Portfolio Now!
A smart investor should be prepared for anything. That's why David Frazier created the
Bulletproof Wealth Report
. This comprehensive investment service is everything you will need to survive and thrive in the looming meltdown. In other words: It's how anyone can make their portfolio bulletproof. It's a mix of fast-growing, leading companies that are the engine of American prosperity. To that he adds a healthy dose of "insurance policies" i.e. stocks and funds that benefit when the next recession strikes. The future favors the prepared. You can be prepared.
Not only that — you can profit
.
Bulletproof My Portfolio!
Cryptocurrency Will Shine Through the Coming Chaos
While the U.S. spends and spends and spends its way into oblivion, the eventual result will be inflation. Serious inflation. The dollar will crash, gold will shoot higher and Bitcoin, well, it can only become more scarce and more valuable. There's a natural ceiling to the number of Bitcoins that will exist — ever. By design, there can only be 21 million of them. Soon, the ceiling will be hit. Now is the moment to get into cryptocurrency. There's a been a rise of late, but prices are consolidating, setting up for the next leap higher. Grab Keene Little's widely followed cryptocurrency newsletter,
Crypto Wealth Protocol
completely risk free.
Yes! Send Me A Free Issue