<–Advertorial–>
Disclaimer: The value of virtual currency may change substantially in a short amount of time.
There is an epic war being staged right now against you.
That's right, a literal war.
The two largest internet companies are censoring the most important information that you need to see.
The major problem with this, is that they continue to make billions of dollars by doing this, while hindering your ability to do the same and simply secure your retirement.
Free Speech is now under attack by Facebook and Google.
They censored and banned this extremely important message.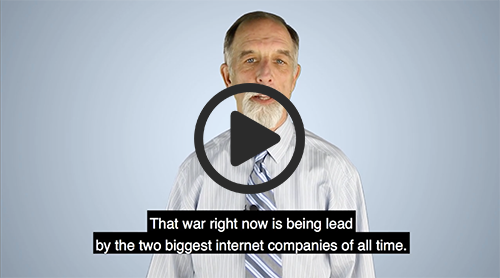 I have to admit, it is rather controversial, but it is the absolute truth. And they want to censor this very truth.
You see, I am a former Navy fighter pilot, who risked my life for this very land and for free speech. I thought to protect all Americans. That's why I feel I need to share this with you.
Discover the shocking video that Google and Facebook have banned =>
Your wingman,
Keene Little
Editor, Real Daily
Any questions?
info@realdaily.com
4300 US Highway 1, Suite 203-196
Jupiter, FL 33477
(800) 378-2794
Bulletproof Your Portfolio Now!
A smart investor should be prepared for anything. That's why David Frazier created the
Bulletproof Wealth Report
. This comprehensive investment service is everything you will need to survive and thrive in the looming meltdown. In other words: It's how anyone can make their portfolio bulletproof. It's a mix of fast-growing, leading companies that are the engine of American prosperity. To that he adds a healthy dose of "insurance policies" i.e. stocks and funds that benefit when the next recession strikes. The future favors the prepared. You can be prepared.
Not only that — you can profit
.
Bulletproof My Portfolio!
Cryptocurrency Will Shine Through the Coming Chaos
While the U.S. spends and spends and spends its way into oblivion, the eventual result will be inflation. Serious inflation. The dollar will crash, gold will shoot higher and Bitcoin, well, it can only become more scarce and more valuable. There's a natural ceiling to the number of Bitcoins that will exist — ever. By design, there can only be 21 million of them. Soon, the ceiling will be hit. Now is the moment to get into cryptocurrency. There's a been a rise of late, but prices are consolidating, setting up for the next leap higher. Grab Keene Little's widely followed cryptocurrency newsletter,
Crypto Wealth Protocol
completely risk free.
Yes! Send Me A Free Issue