For the past 10 years, the Federal Reserve's fiscal policy of easy money helped fuel booming stock and bond markets.
Since 2009 the value of the S&P 500 Index of large U.S. stocks has close to tripled. Meanwhile, interest rates remained at historically low levels.
The Fed now is signaling an end to the era of so-called "quantitative easing." It is raising short-term interest rates for the first time in a decade.
The Treasury yield curve — demonstrating the gap in yield between short- and long-term debt of the same quality — reflects this new reality.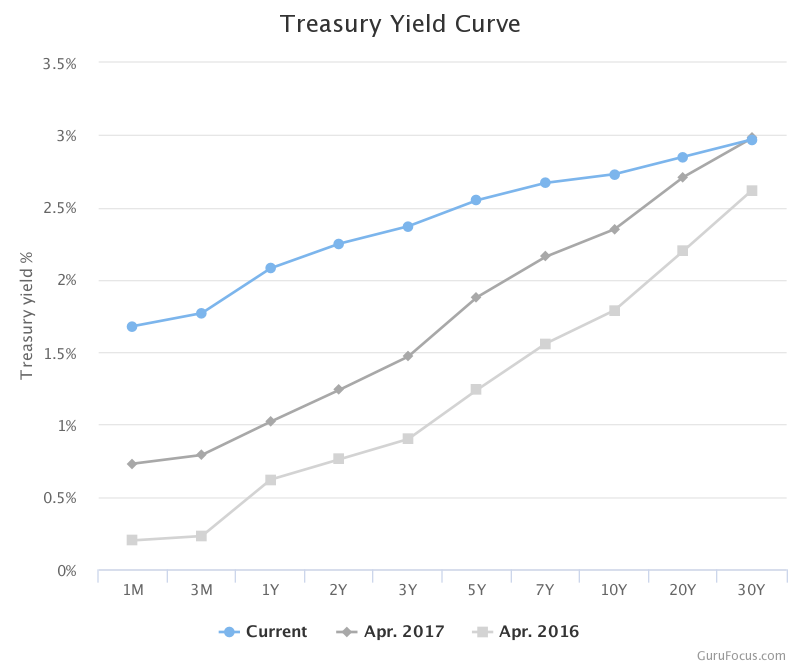 Looking forward, many analysts predict that the generous returns afforded by the stock market over the past 10 years will not be replicated.
This is a significant change from the past decade and for some, it may prompt a reevaluation of their retirement investment strategy.
Here are three strategies that astute investors can use to take advantage of a rising interest rate environment:
Buy short-term bonds
Short-term bond funds, like CDs and savings accounts, are considered fixed-income investments: They pay a predetermined rate of interest over a specified period of time.
The advantage of a short-term bond fund is that it is not as sensitive to interest rate fluctuations as bonds with longer maturities.
Additionally, in order to compensate investors for assuming additional price risk (bonds generally decline in value as interest rates rise) bond funds typically offer a higher rate of return than CDs or money market funds.
An actively managed bond fund seeks to take advantage of short-term fluctuation in rates by adjusting the maturities in its portfolio. A well-managed fund could potentially offer investors not only income but capital appreciation as well.
Build a bond ladder
Another type of strategy to maximize returns in a rising interest rate setting is a bond ladder.
A ladder-structured investment involves purchasing a mix of bonds across a range of maturity dates. As each bond matures, an investor can reinvest the proceeds in another fixed-income instrument further down the maturity time frame.
If rates rise after the initial bond purchase, the reinvestment rate will be higher than that carried by the maturing bond.
Hedge your risk
Some exchange-traded funds and hedge funds seek to offer investors a high current yield while at the same time protecting from downside risk if interest rates rise.
Interest rates and bond prices are inversely related: When rates rise, bond prices fall.
To minimize risk in a rising rate environment, the fund managers purchase a specific bond and at the same time sell short Treasury bond futures to hedge, or limit, the loss on the bonds should rates rise.
The choice of which strategy would be the most suitable will depend on each individual's tolerance for risk and the number of years until retirement.
For those in the process of implementing a long-term retirement savings strategy, it would be prudent to reexamine all options.
If warranted, adjust portfolios disproportionately weighted towards equities to take advantage of the new investment climate of rising interest rates.
Bulletproof Your Portfolio Now!
A smart investor should be prepared for anything. That's why David Frazier created the
Bulletproof Wealth Report
. This comprehensive investment service is everything you will need to survive and thrive in the looming meltdown. In other words: It's how anyone can make their portfolio bulletproof. It's a mix of fast-growing, leading companies that are the engine of American prosperity. To that he adds a healthy dose of "insurance policies" i.e. stocks and funds that benefit when the next recession strikes. The future favors the prepared. You can be prepared.
Not only that — you can profit
.
Bulletproof My Portfolio!
Cryptocurrency Will Shine Through the Coming Chaos
While the U.S. spends and spends and spends its way into oblivion, the eventual result will be inflation. Serious inflation. The dollar will crash, gold will shoot higher and Bitcoin, well, it can only become more scarce and more valuable. There's a natural ceiling to the number of Bitcoins that will exist — ever. By design, there can only be 21 million of them. Soon, the ceiling will be hit. Now is the moment to get into cryptocurrency. There's a been a rise of late, but prices are consolidating, setting up for the next leap higher. Grab Keene Little's widely followed cryptocurrency newsletter,
Crypto Wealth Protocol
completely risk free.
Yes! Send Me A Free Issue