Though they may be loathe to admit it, investors have been spoiled for the past decade and largely shielded from the risk of even a mild downturn in the market.
Pampered by 10 years of historically unprecedented low interest rates and an unwavering Federal Reserve policy of easy money, many investors have been disquieted by market volatility since the beginning of 2018.
Uncomfortable with the new reality of rising interest rates and stock index instability, some have panicked and created short-term gyrations in the market.
At this writing, stocks were up slightly on the year, having peaked in later January.
Bonds, meanwhile, finally touched 3% on the 10-year Treasury, suggesting to some that the interest rate target of the Federal Reserve had finally broken to the upside on yield, with the corresponding effect downward on bond prices.
For the past 10 years, however, with a few exceptions that were relatively short-lived, bonds and stocks moved in tandem.
Historically, this relationship was an anomaly: Until the new millennium, more often than not a rising stock market was bad for the bond market and vice versa.
Because an inverse bond-equity relationship existed during the recent bull market, the pricing of asset classes became badly skewed and with it, the normal operation of the risk-reward paradigm.
During the bull market, a common strategy for many was to simply park funds in large capitalized corporations that were paying generous dividends.
In addition to relatively high dividend yields, the appreciation of the stocks gave investors a handsome total return.
Due to the unbroken upward trajectory of the stock market, the risk of the dividend-yielding stocks dropping in price was limited.
Additionally, due to a protracted period of low interest rates, investors didn't have to worry about funds leaving the stock market instead of low-yielding fixed-income investments.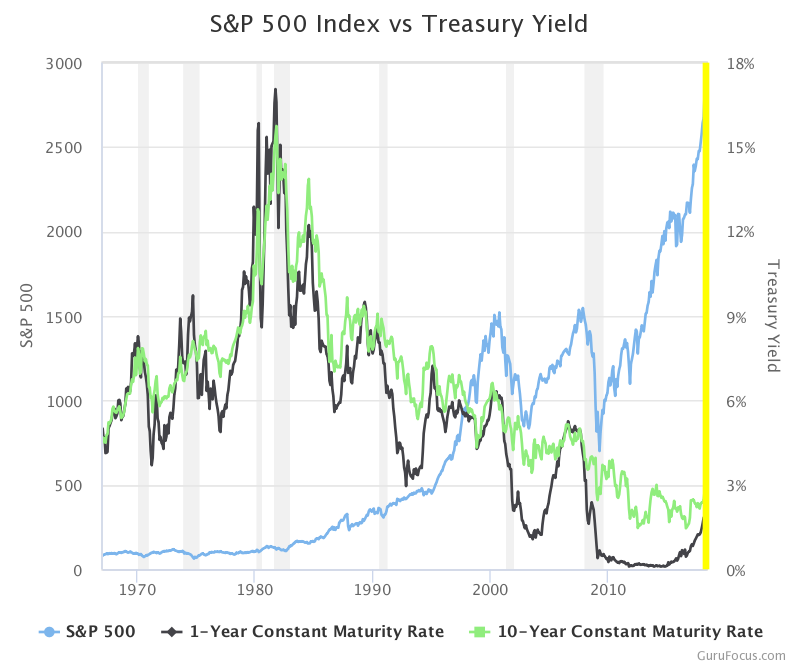 Now that interest rates are rising and the pricing equilibrium among asset classes is being reestablished, investors can no longer be certain that current market conditions will reward or incentivize such an advantageous strategy.
Lockstep
Furthermore, it is unlikely that investors will realize ample returns from both the stock and bond markets since these investment vehicles will no longer move in lockstep.
In the current rising interest rate environment, bonds are likely to provide investors with comparable returns as stocks.
Since interest rate increases decrease the attractiveness of dividend-yielding stocks, investors' S&P 500 total return strategy is no longer going to be relatively risk-free.
The price appreciation component of a stock's total return is likely to cease its pattern of increasing year after year.
In this new market climate, investors will need to recalculate the atypical risk-reward dynamic of the past decade, readjust assumptions underlying their investment strategies and readjust their portfolios to conform to the new reality.
Bulletproof Your Portfolio Now!
A smart investor should be prepared for anything. That's why David Frazier created the
Bulletproof Wealth Report
. This comprehensive investment service is everything you will need to survive and thrive in the looming meltdown. In other words: It's how anyone can make their portfolio bulletproof. It's a mix of fast-growing, leading companies that are the engine of American prosperity. To that he adds a healthy dose of "insurance policies" i.e. stocks and funds that benefit when the next recession strikes. The future favors the prepared. You can be prepared.
Not only that — you can profit
.
Bulletproof My Portfolio!
Cryptocurrency Will Shine Through the Coming Chaos
While the U.S. spends and spends and spends its way into oblivion, the eventual result will be inflation. Serious inflation. The dollar will crash, gold will shoot higher and Bitcoin, well, it can only become more scarce and more valuable. There's a natural ceiling to the number of Bitcoins that will exist — ever. By design, there can only be 21 million of them. Soon, the ceiling will be hit. Now is the moment to get into cryptocurrency. There's a been a rise of late, but prices are consolidating, setting up for the next leap higher. Grab Keene Little's widely followed cryptocurrency newsletter,
Crypto Wealth Protocol
completely risk free.
Yes! Send Me A Free Issue