As I mentioned to my subscribers last week, Bitcoin rallied up to resistance last week at the top of a possible descending wedge pattern (bold purple lines) and stopped just short of its 200-day moving average.
This moving average stopped the previous rally attempt into the May 5th high and it remains possible we'll see Bitcoin take one more trip to the bottom of the descending wedge to complete the pattern before setting up the next bull market.
Exclusive Access: Get Keene Little's Crypto Wealth Protocol delivered to your inbox!
As depicted with the red dashed line, a trip back down to the bottom of the wedge would mean Bitcoin could hit the horizontal price support zone at $5,000 to $5,400, probably in September. I've talked about this support zone for a couple of months now and while I'm not predicting Bitcoin will get down to that level it remains a possibility.
If it does happen, consider it a gift since it would likely be the last time Bitcoin will see a price that low ever again.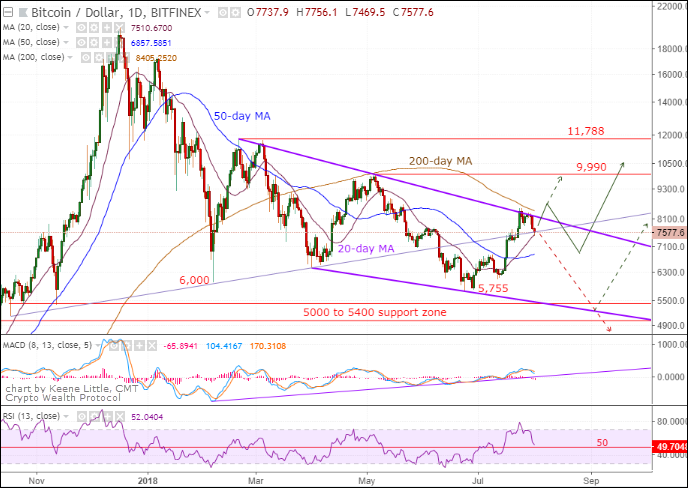 This bearish downside vulnerability for Bitcoin exists because of the price patterns for the other altcoins. Most of the other coins have not bounced nearly as strong as Bitcoin and instead look like a correction within an ongoing bear market.
For this reason I've been suggesting holding off on additional investments other than your normal regular monthly contributions to your portfolio, which should be without regard for price.
The bullish potential that I see for Bitcoin is for the minor pullback from the July 24th high to lead to another push higher above its 200-day moving average, near $8,400. This is depicted with the solid green lines.
Special Report: Learn the powerful secrets of serious cryptocurrency investors — before Wall Street catches up!
As long as Bitcoin remains above $7,500 the bullish potential remains a possibility.
However, it remains difficult to reconcile the weakness in the other coins with the strength in Bitcoin. The bifurcation means we must remain cautious the market.
Bulletproof Your Portfolio Now!
A smart investor should be prepared for anything. That's why David Frazier created the
Bulletproof Wealth Report
. This comprehensive investment service is everything you will need to survive and thrive in the looming meltdown. In other words: It's how anyone can make their portfolio bulletproof. It's a mix of fast-growing, leading companies that are the engine of American prosperity. To that he adds a healthy dose of "insurance policies" i.e. stocks and funds that benefit when the next recession strikes. The future favors the prepared. You can be prepared.
Not only that — you can profit
.
Bulletproof My Portfolio!
Cryptocurrency Will Shine Through the Coming Chaos
While the U.S. spends and spends and spends its way into oblivion, the eventual result will be inflation. Serious inflation. The dollar will crash, gold will shoot higher and Bitcoin, well, it can only become more scarce and more valuable. There's a natural ceiling to the number of Bitcoins that will exist — ever. By design, there can only be 21 million of them. Soon, the ceiling will be hit. Now is the moment to get into cryptocurrency. There's a been a rise of late, but prices are consolidating, setting up for the next leap higher. Grab Keene Little's widely followed cryptocurrency newsletter,
Crypto Wealth Protocol
completely risk free.
Yes! Send Me A Free Issue