One of the biggest outperformers since the February 2016 bottom has been industrial stocks primarily due to a combination of globalized synchronized growth and a weaker dollar. Below is a chart of the Dow Jones Industrial Average showing its more than 50% gain.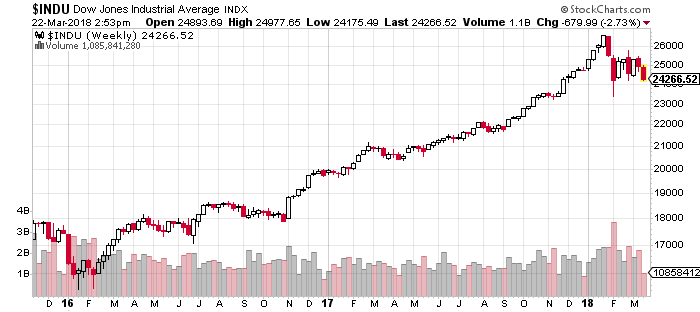 Simply put, these stocks have been one of the strongest groups in the market. They've rewarded dip buyers and punished shorts. However, in the last few weeks there have been some interesting developments in how these stocks are trading that traders should pay attention to.
Essentially, industrial stocks are worthy short candidates given recent trends. Further, this narrative is supported by recent economic data which is weakening, concerns swirling around a potential trade war and the price action of leading stocks in the group.
What's the deal with steel?
An interesting thing happened in early March as steel stocks failed to break out on President Trump's tariff announcement. For example, below is US Steel which was bull flagging on its six month, daily chart: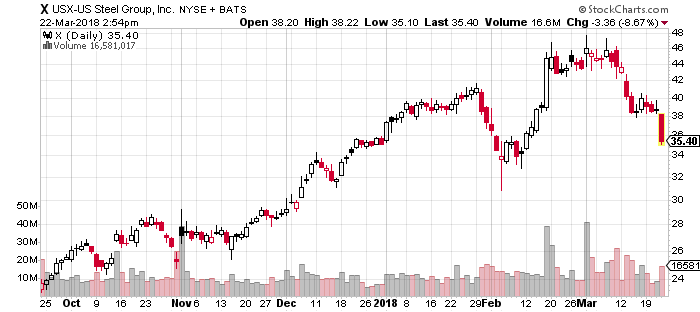 A stock's failure to rally on a positive catalyst is an indication that supply and demand dynamics have shifted, and the good news is already priced into the stock. Now, it's certainly fair to say that US Steel has increased by many multiples since its current rally started in February 2016 as its three-year chart shows below: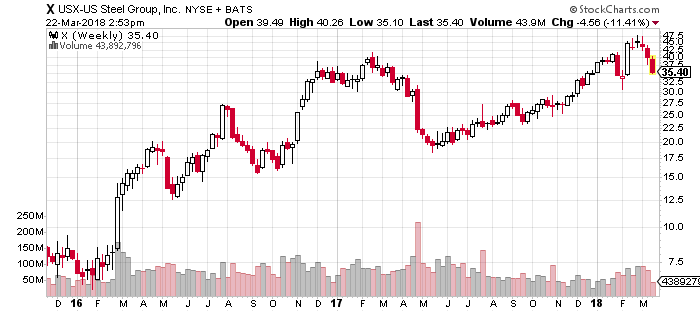 It can be insightful to examine how steel stocks perform relative to industrial stocks as they are are very leveraged the performance of the global economy. Those bullish on industrial stocks want to see steel stocks outperform as it is a sign of healthy, bottoms-up demand. Comparing the three-year charts of US Steel and the Dow Jones Industrial Average shows that since early 2017, steel stocks have failed to match the gains in the Dow Industrials.
In fact, US Steel barely exceeded its early 2017 high before declining. Currently, US Steel is below its 2017 March high and qualifies as a failed breakout. In the same way that an acceleration in growth is the best time to be long steel, shorting steel can be very lucrative when the global economy slows down.
Caterpillar Lower Highs, Lower Lows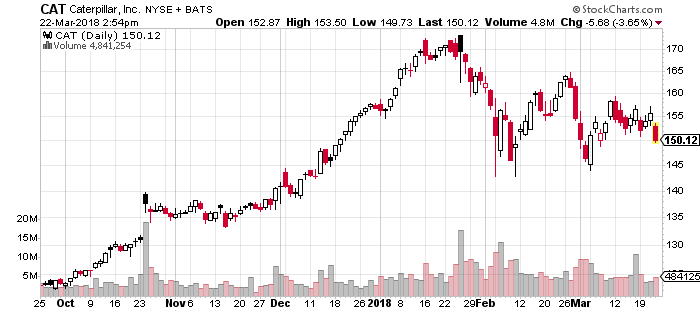 Caterpillar is one of the leading industrial stocks in the world and considered a bellwether for the global economy. Caterpillar has thrived along with other industrial stocks, almost tripling off its bottom in February 2016.
Thus, it is worth noting that it is beginning to diverge in a meaningful way. While technology stocks challenged and exceeded its late January highs during the market's bounce in February, Caterpillar made a lower high. Further, the stock retested its lows in early March while other indices made higher lows. Finally, the bounce in early March led to another lower high. Compare Caterpillar's performance to the Nasdaq: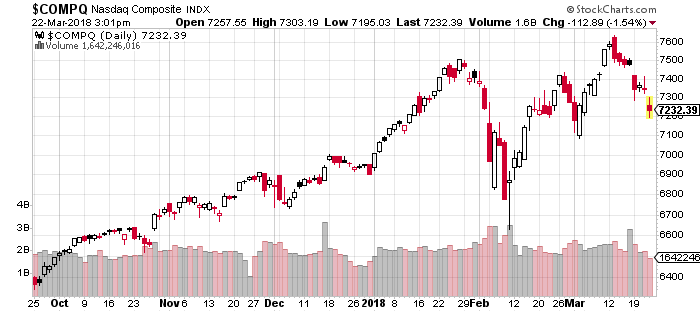 One is showing higher highs and higher lows since the February bottom. The other is showing higher lows and marginally lower lows.
Takeaway
Essentially, traders who are looking for the broader market to rollover should look for shorts in industrial stocks who are showing signs of distribution after more than two years of outperformance.
Bulletproof Your Portfolio Now!
A smart investor should be prepared for anything. That's why David Frazier created the
Bulletproof Wealth Report
. This comprehensive investment service is everything you will need to survive and thrive in the looming meltdown. In other words: It's how anyone can make their portfolio bulletproof. It's a mix of fast-growing, leading companies that are the engine of American prosperity. To that he adds a healthy dose of "insurance policies" i.e. stocks and funds that benefit when the next recession strikes. The future favors the prepared. You can be prepared.
Not only that — you can profit
.
Bulletproof My Portfolio!
Cryptocurrency Will Shine Through the Coming Chaos
While the U.S. spends and spends and spends its way into oblivion, the eventual result will be inflation. Serious inflation. The dollar will crash, gold will shoot higher and Bitcoin, well, it can only become more scarce and more valuable. There's a natural ceiling to the number of Bitcoins that will exist — ever. By design, there can only be 21 million of them. Soon, the ceiling will be hit. Now is the moment to get into cryptocurrency. There's a been a rise of late, but prices are consolidating, setting up for the next leap higher. Grab Keene Little's widely followed cryptocurrency newsletter,
Crypto Wealth Protocol
completely risk free.
Yes! Send Me A Free Issue