Do economic expansions die of old age? Not according to the experts.
Yet that's where we are, now 121 months and counting for what's now the longest period of unbroken growth in U.S. history. 
The growth trend started back in June 2009, just after the stock market bottomed. 
The previous growth record was 120 months, taking place between March 1991 to March 2001. 
While no one is complaining about the longevity of this current economic boom, there are grumblings over the quality of it. 
The cumulative total of quarterly GDP growth figures equals 25%. This is considerably lower than past booms.
There is also the unemployment rate. While the current unemployment rate of 3.6% is far better than the peak of 10% in October 2009, compared to other postwar recoveries, it has been slower.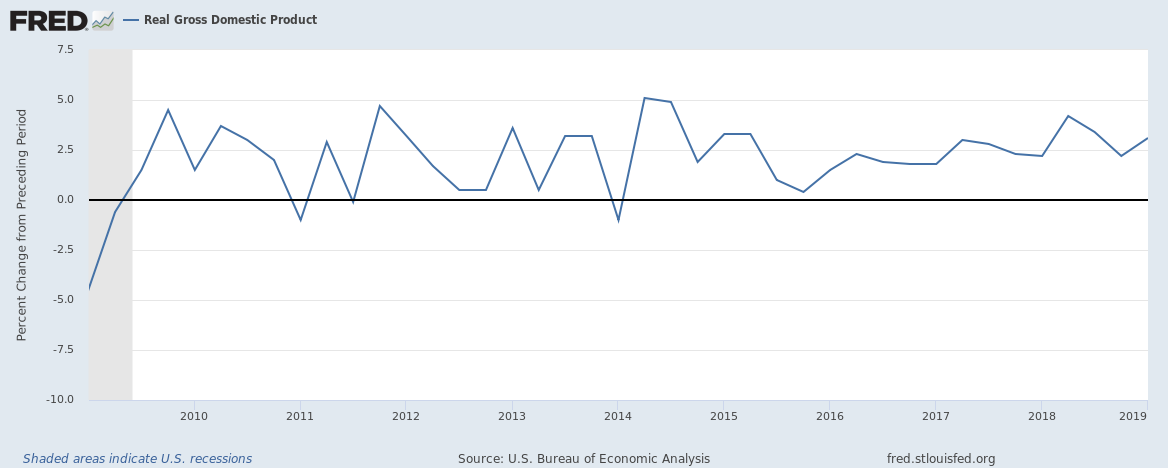 Many economists believe that the Trump tax cut of 2018 as well as a loosening in business regulations have spurred along the current expansion.  
When asked if this economic growth will last Wall Street is split. Some are counting on the Federal Reserve to cut interest rates.
Others worry the Fed won't be ambitious enough with its rate cut, while others are convinced there is nothing the Fed can do to ward off a coming recession. 
Rate cuts
"We still do not see a recession, but we continue to worry more about downside risks than upside risks to the outlook," says Torsten Slok, Deutsche Bank's chief economist.
"To counter the ongoing slowdown in the data and the uncertainty of how much longer the trade war will continue, we see the Fed cutting rates in July, September, and December."
One indication on the health of our current economy will be future jobs reports.  The U.S. has created an average of at least 150,000 new jobs a month since 2011. 
When discussing the poor job creation during the month of May, chief economist Richard Moody of Regions Financial, is quoted as saying, "the underlying trends are what matter more."
"It's hard for me to believe that things have ground to halt."
Bulletproof Your Portfolio Now!
A smart investor should be prepared for anything. That's why David Frazier created the
Bulletproof Wealth Report
. This comprehensive investment service is everything you will need to survive and thrive in the looming meltdown. In other words: It's how anyone can make their portfolio bulletproof. It's a mix of fast-growing, leading companies that are the engine of American prosperity. To that he adds a healthy dose of "insurance policies" i.e. stocks and funds that benefit when the next recession strikes. The future favors the prepared. You can be prepared.
Not only that — you can profit
.
Bulletproof My Portfolio!
Cryptocurrency Will Shine Through the Coming Chaos
While the U.S. spends and spends and spends its way into oblivion, the eventual result will be inflation. Serious inflation. The dollar will crash, gold will shoot higher and Bitcoin, well, it can only become more scarce and more valuable. There's a natural ceiling to the number of Bitcoins that will exist — ever. By design, there can only be 21 million of them. Soon, the ceiling will be hit. Now is the moment to get into cryptocurrency. There's a been a rise of late, but prices are consolidating, setting up for the next leap higher. Grab Keene Little's widely followed cryptocurrency newsletter,
Crypto Wealth Protocol
completely risk free.
Yes! Send Me A Free Issue