Do economic expansions die of old age? Not according to the experts.
Yet that's where we are, now 121 months and counting for what's now the longest period of unbroken growth in U.S. history. 
The growth trend started back in June 2009, just after the stock market bottomed. 
The previous growth record was 120 months, taking place between March 1991 to March 2001. 
While no one is complaining about the longevity of this current economic boom, there are grumblings over the quality of it. 
The cumulative total of quarterly GDP growth figures equals 25%. This is considerably lower than past booms.
There is also the unemployment rate. While the current unemployment rate of 3.6% is far better than the peak of 10% in October 2009, compared to other postwar recoveries, it has been slower.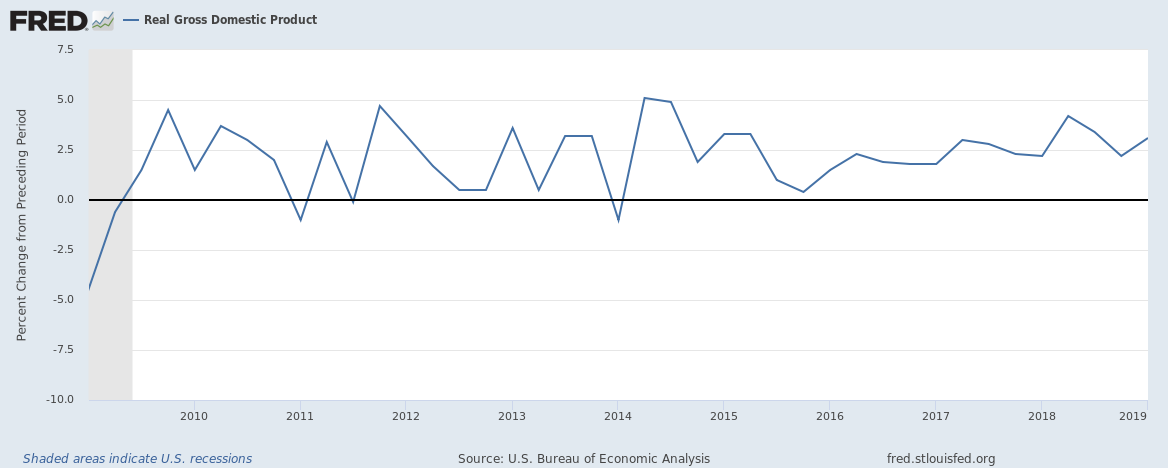 Many economists believe that the Trump tax cut of 2018 as well as a loosening in business regulations have spurred along the current expansion.  
When asked if this economic growth will last Wall Street is split. Some are counting on the Federal Reserve to cut interest rates.
Others worry the Fed won't be ambitious enough with its rate cut, while others are convinced there is nothing the Fed can do to ward off a coming recession. 
Rate cuts
"We still do not see a recession, but we continue to worry more about downside risks than upside risks to the outlook," says Torsten Slok, Deutsche Bank's chief economist.
"To counter the ongoing slowdown in the data and the uncertainty of how much longer the trade war will continue, we see the Fed cutting rates in July, September, and December."
One indication on the health of our current economy will be future jobs reports.  The U.S. has created an average of at least 150,000 new jobs a month since 2011. 
When discussing the poor job creation during the month of May, chief economist Richard Moody of Regions Financial, is quoted as saying, "the underlying trends are what matter more."
"It's hard for me to believe that things have ground to halt."
Small-cap winners galore
The big stock market winners share one common attribute: Near the beginning of the ascent of their shares, the companies offer revolutionary products or services, are market leaders in their respective industries, or both. Some big stock market winners that possessed the attributes outlined above are Netflix (NFLX), which we recommended to investors in October 2002; Intuitive Surgical (ISRG), which we bought and recommended in July 2004; Baidu.com (BIDU), which we bought and recommended in August 2006; and MercadoLibre (MELI), which we recommended to investors in October 2010. Get up-to-date small-cap stock picks from David Frazier, editor of
Small-Cap Profit Confidential.
Click here
Smarter cryptocurrency investments
The stock market crash of 2008 was the catalyst for his journey into alternatives. And interestingly, it was the impetus behind the creation of Bitcoin and the blockchain technology behind it. Keene Little wasn't ready to risk his money yet but he was very curious, so he began charting Bitcoin's technical patterns. What finally convinced him to dip a toe into digital currencies was seeing that they followed familiar price patterns that could be analyzed and successfully acted on. Now he shares those insights with subscribers to the
Crypto Wealth Protocol.
Learn more