Bank of America investment strategists are now calling the rise and fall of Bitcoin in late 2017 and early 2018 "one of the greatest asset price bubbles in history."
After nearing $20,000 in mid-December, the virtual currency fell to $6,598 in mid-April. It trades this morning at around $8,050.
Merrill chief investment strategist Michael Hartnett may have inadvertently called the bottom, posting his research note on on April 8.
Bank of America nevertheless is calling Bitcoin and cryptocurrency in general a bubble that is in the midst of popping.
April 10 was a bad day for cryptocurrencies across the board. The world's second largest cryptocurrency value trading market by cap, Ethereum, declined by 3.1%.
One Ethereum token was worth $398 on that date. Litecoin lost about 6.0% in value, with its token being worth $114. Ripple's XRP crypto token was worth about $0.48, falling about 4.4%.
Bank of America's report even published a Bitcoin investment mania chart comparing the crypto coin with various financial bubbles of the past.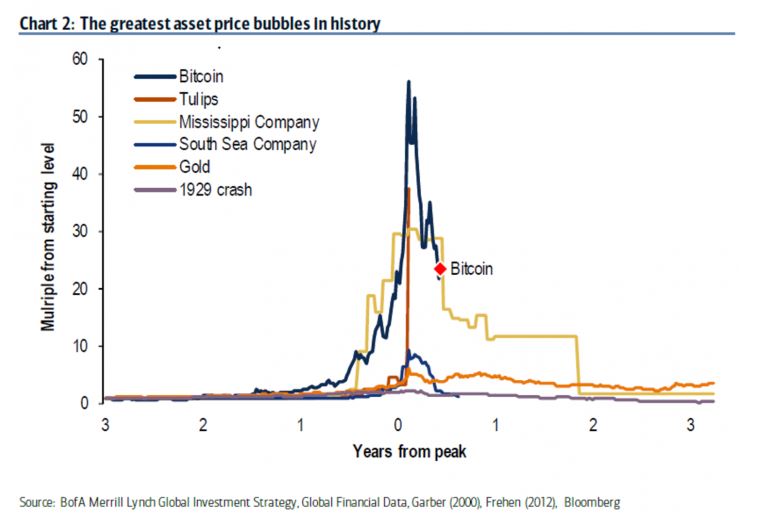 The report's financial mania chart compared Bitcoin mania to the Mississippi Company and South Sea Company in the 18th century.
The Mississippi Company hyped French colony land available for homesteading that was divorced from reality. It may be the earliest modern example of an economic bubble.
Britain's South Sea Company stock precipitated a financial bubble and market crash at a time when the country virtually controlled the world.
Pot, meet kettle
There were also a comparison to the U.S. gold rush, which benefitted a few wealthy individuals and companies and left countless prospectors destitute.
Bitcoin's closest analogue to a past economic bubble was the Dutch tulip bubble of 1637, according to the report.
Due to Bitcoin's rapid asset appreciation growth, it's trading value rose over 60 times in the past three years. Before the Dutch tulip bubble burst the value of otherwise ordinary flower bulbs rose over 40 times.
It's worth noting that Bank of America might know a thing or two about bubbles. The bank itself has come within inches of being closed by past banking crises, notably during the 2008 debacle.
Financial rescue often took panicked calls to taxpayers for help to stave off shutdowns due to overextended lending and poor management choices at the top. Tens of billions in penalties had to be repaid, costing shareholders.
Bubbles are, after all, the result of many small human decisions made worse by big decisions from those who lead our institutions.
Bulletproof Your Portfolio Now!
A smart investor should be prepared for anything. That's why David Frazier created the
Bulletproof Wealth Report
. This comprehensive investment service is everything you will need to survive and thrive in the looming meltdown. In other words: It's how anyone can make their portfolio bulletproof. It's a mix of fast-growing, leading companies that are the engine of American prosperity. To that he adds a healthy dose of "insurance policies" i.e. stocks and funds that benefit when the next recession strikes. The future favors the prepared. You can be prepared.
Not only that — you can profit
.
Bulletproof My Portfolio!
Cryptocurrency Will Shine Through the Coming Chaos
While the U.S. spends and spends and spends its way into oblivion, the eventual result will be inflation. Serious inflation. The dollar will crash, gold will shoot higher and Bitcoin, well, it can only become more scarce and more valuable. There's a natural ceiling to the number of Bitcoins that will exist — ever. By design, there can only be 21 million of them. Soon, the ceiling will be hit. Now is the moment to get into cryptocurrency. There's a been a rise of late, but prices are consolidating, setting up for the next leap higher. Grab Keene Little's widely followed cryptocurrency newsletter,
Crypto Wealth Protocol
completely risk free.
Yes! Send Me A Free Issue